Now available at your nearest book store and online
In The Greek House Christian Brechneff presents a funny, touching narrative about his relationship to the Greek island of Sifnos, writing with warmth about its unforgettable residents and the house he bought in a hilltop village. This is the story of how a twenty-one-yearold painter searching for artistic inspiration and a quiet place to work fell in love with Sifnos, and how it became a haven from the complexities of his life. It is the story of his village and of the island over thirty-odd years—from a time when there were barely any roads to the arrival of the modern world with its tourists and high-speed boats and the euro. And it is the story of the end of this love affair—how the island changed and how he changed; how he realized he had outgrown Sifnos, or couldn't grow there anymore.
The Greek House is a celebration of place and an honest account of self-discovery. In its pages, a naïve young man filled with longing comes into his own. Weaving himself into the life of the island, painting it year after year, he finds a place he can call home.
Christian Brechneff's Interview at the Leonard Lopate Show on WNYC
Read an excerpt
Read the Interview with Christian Brechneff on tetraktysmag.com.
Read the Interview with Christian Brechneff on greeka.com.
Works created on Sifnos: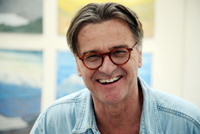 Christian Brechneff was born in the Belgian Congo in 1950 and was educated in Switzerland and the United States (St. Olaf College). In 1975 he received his master of arts degree from the Royal College of Art in London. He has exhibited in Switzerland, Spain, England, Germany, Sri Lanka, and the United States, and his paintings appear in public and private collections all over the world, including the Metropolitan Museum of Art in New York. Brechneff is also the author of Homage: Encounters with the East, a book of travel drawings published in 2007. He lives in Hadlyme, Connecticut. You can visit his website at www.christianbrechneff.com.